Popular gospel singer, Frank Edwards narrates an encounter with a random fan who turned around the seed money handed to him as a gift.
According to the praise and worship singer, the fan who works at Sharwama store captivated his attention with praises as his role model.
After giving him a token of cash appreciation, the fan rushed out to buy music equipment with the money other than spending the resources on shoes and clothes.
"So I randomly met this guy yesterday at a shawarma place where he works, he just started screaming "my mentor , Omg !! " etc
Afterwards I decided to sow a seed to him .. so got his account details and sent my seed! And he started with another level of drama Now why am i shearing this ? He told me that even though he works at the shawarma place he is an upcoming producer.. and this guy took from the money I gave him straight to the music store to get his first studio equipment!! I'm so impressed to see how serious he is with his dream!! He didn't go to buy shoes and chains !! My brother you will succeed in JESUS NAME!!" he wrote.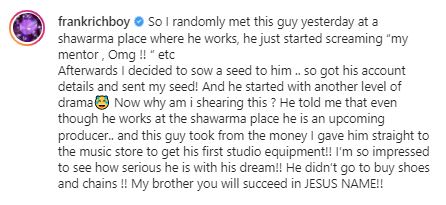 See snapshots of their chat below …